Share up to four USB devices between two computers.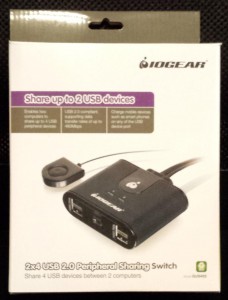 The unique feature of this particular switch is that the actual switch is the placement of the button.  The button for switching the peripherals is on the end of a long tether.
The device was built rather solidly, with the cables for each of the computers being attached directly to the device.  The button for switching between the two machines only requires a fairly light touch.
The device itself did work fine after a few teething problems.  the problems had nothing to do with the device itself.  One of the the desktops that it was connected to was connected to only had a free USB3 slot and that is where the problems began.
The two devices that needed to be switched was wireless mouse and mechanical keyboard.  The computer did not boot up because it couldn't find a keyboard.
I contacted the IOGEAR support line.  Their representative was polite but actually not all that helpful.  They could not guarantee that a wireless device would work, I was given the advice to switch my plugged in peripherals around as a "first start".  I was very disappointed to hear that the support person could not give me the second option I should try if that failed.
In the end, it turned out that the problem was with the USB3 driver and nothing to do with the IOGEAR switch.  Apparently, my driver was not up to date and thus not all of the recognition was working.
A number of reviews on the Internet complain mainly about two different issues for this device.  The first is using this switch to switch external USB disks between computers.
This doesn't seem like the best solution unless it is done at the same time as turning on or off these computers, or ensuring that the drives are properly dismounted.  The second issue is with wireless devices.  My wireless mouse was recognized but oddly enough my wired keyboard was not always recognized when starting the computer.  No amount of new or updated drivers help me with this issue.
Pros        The main switch is rather solidly built. It is possible to put the switch behind the computers away from the the work area.
Cons       It is not possible to see which computer is currently selected either from the switch or the box itself.  The button for switching is connected with a very thin wire.
Addl       Computers don't respond well to being without a keyboard on boot, this setup was problematic for one of the computers (tower).  The other computer was a laptop and thus always had a connected keyboard.  The eventual solution was to purchase a Logitech unifying receiver.  This tricked the computer into thinking a keyboard was always present.